Don't let poor landscaping curb your enthusiasm! Often, when homeowners consider selling their home, they often focus on items they feel need updating to meet current market appeal. Many times, people ask me, "Should I have the kitchen redone? What about the bathrooms?" No doubt there can be value in updating some interior areas. But if you've not taken the time to update the exterior and landscaping, you are hurting your sales opportunities.
The first "vision" a buyer has of your home is typically the picture the Realtor has shown with the listing – if there is a picture. The second – and in many ways more permanent – vision is the one any prospective buyer has when they pull up at your home for a viewing. Did you ever pull up to a property and the first thing you saw were dead or dying plants and an overgrown yard?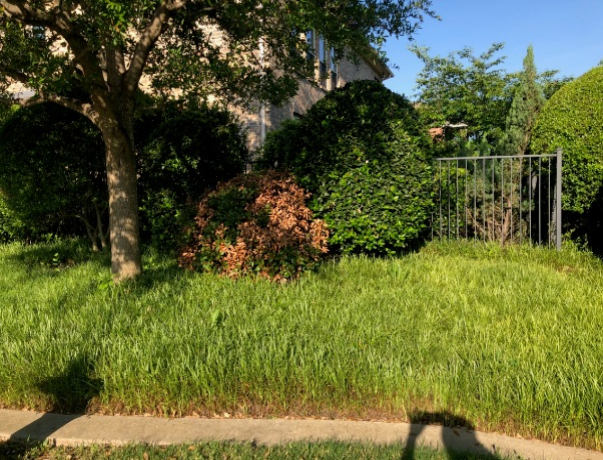 What impression does it convey to a buyer and their negotiating tactics when this is the first view? Hmmm . . . not interested in maintaining the property . . . I wonder what other deferred maintenance there is? How much under the asking price should I offer to update the property to my standards?
A yard like the one in this photo "booby traps" your effort to gain top value from your property. Studies by numerous organizations have shown homeowners typically get at least a 100% return on their investment in gaining "curb appeal" with plants and landscaping.
There are several items you SHOULD consider in updating your yard and landscaping. These items include the type of exposure – full sun, partial sun, partial shade, or full shade – and the use. Some neighborhoods have lots of families with young children. Other neighborhoods have more "empty nesters" or young professionals. Some neighborhoods are an eclectic mix of all the above. What types of buyers are shopping your neighborhood and what type of buyer do you wish to appeal? Remember, to minimize statues, art, large pots and other items that may "over populate" your landscaping.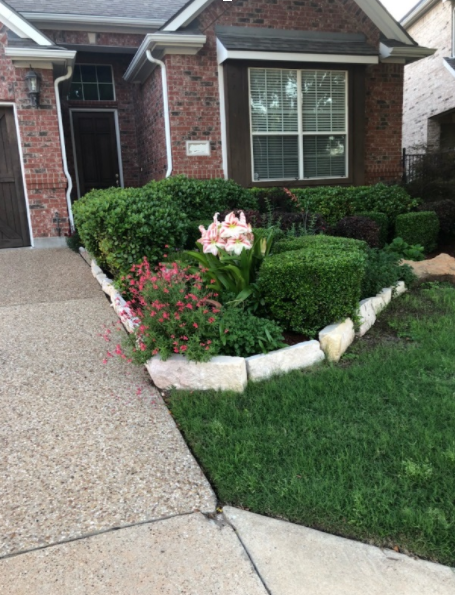 Here are a couple of examples of landscaping that can be very appealing and low maintenance – which is important to me. The first example uses loose stones to outline a bed filled with easy care shrubs and blooming flowers. Later in the blog post I'll have links to plants that are recommended for the North Texas climate. But the point here – most of these plants are pretty and require little of the homeowner's time to maintain.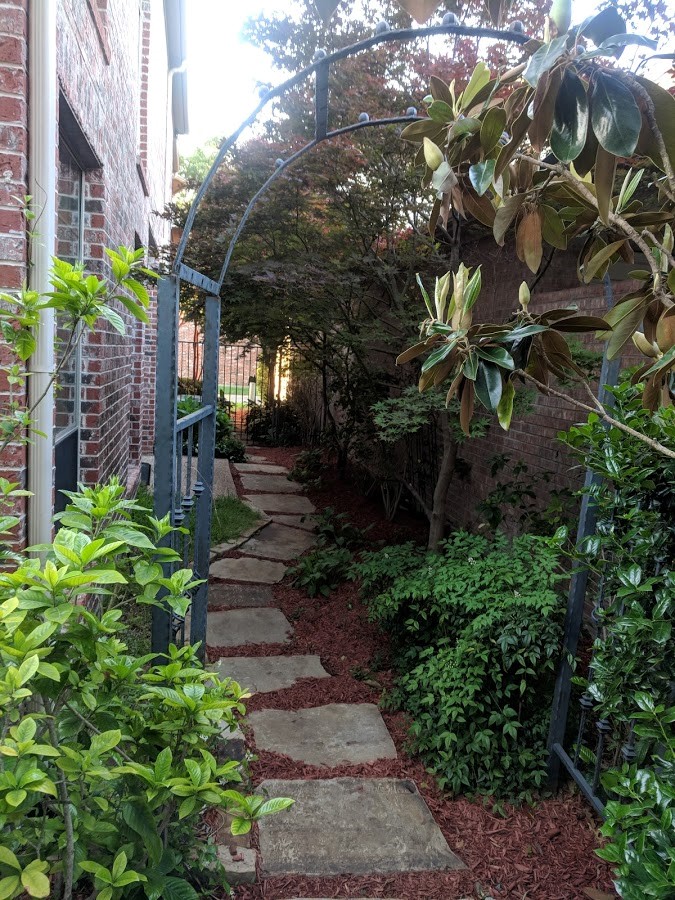 Here's another example:
In this situation, the space is mostly shaded. The owner has used Japanese Maple, shade tolerant or shade loving shrubs, stepping stones and mulch to create a very pleasing space. Again, an area done in this fashion is very low maintenance.
The following is a before and after example. In the "before" the owner had suffered the loss of Asian Jasmine due to a hard freeze – those of you that lived in North Texas in 2011 – the year Super Bowl XLV was played in Texas Stadium – may recall the terrible multi-day cold and ice storm. Many plants that normally survive North Texas' variable temperature and weather vagaries did not survive that season. (Keep the wide temperature variation in mind if you are seduced into thinking a palm tree motif would be nice. You'll get to replant those palms typically every 5 – 7 years.) The owner simply had barren ground beneath a canopy of Texas Live Oak.
| | |
| --- | --- |
| Before | After |
The homeowner had the metal edging replaced with stone, planted shade-tolerant shrubs, and mulched the area. Everyone in the neighborhood has told the owner how much they like the new landscaping. In my opinion, the yard went from the worst curb appeal to the best in that area.
What kind of plants? And what about different cities?
Did you know, depending on where you live, the city or your HOA may have input into what you can or cannot do with respect to landscaping. And really, although some see this as a negative I typically do
not. It ensures some degree of homogeneity in neighborhoods and both the city and the HOA want the yards to look nice – with that pleasing curb appeal. Incredibly, in some communities the city will help fund (50/50) with residents to beautify some areas – though these are typically "common" areas or "public" areas and not private yards.
If you live in the City of Richardson, you should know about the city's "Environmental Partnership Initiatives" which has information about the types of plants that are appropriate for our city and climate. This site also has information on the "Tree the Town" initiative, links to the Collin County Master Gardener's Association, the Dallas County Master Gardener's Association, a Drought-Tolerant Plant Guide, and more, including information on the wise use of a limited resource – water. (Over 50% of landscape water is wasted due to over-watering, inefficient watering practices, or poorly maintained irrigation systems.) This site is a gold mine for reasonable, cost effective, climate tolerant plants and ideas.
The "Texas Smatscape" site is also an excellent resource in addressing landscaping. It includes a searchable plant database, Landscape Design Tools, Demonstration Gardens, and Smartscape Plant Sales. There is also the "Texas Home and Garden" site that includes "low maintenance Dallas native plants" and tons of good information with all types of ideas. "Plants for Dallas" is a "small group of landscape design professionals" that have a very nice site and a plant library that is very useful and divided into very usable sections like trees, shrubs, ornamental trees, and so on.
And finally, of course no list would be complete without mentioning the Dallas Arboretum. This wonderful, accessible resource is worth a blog all on its own, but that is for another day. Suffice to say you owe it to yourself to plan a trip to see the landscaping, get ideas, and enjoy the "test gardens". You will enjoy the peace and serenity and walk away with new ideas about how you can add that magical curb appeal to your home!
Until next time . . .